From the Idaho Press
By NICOLE FOY, XAVIER WARD and ALX STEVENS
This weekend marks the end of Sunshine Week, an initiative the American Society of News Editors started in 2005 to start a discussion about openness and transparency in government.
During Sunshine Week (March 10-16), media organizations and reporters across the country highlighted the importance of state and national laws that protect the public's "right to know" what their public officials are doing.
It's basically the closest thing to a national holiday for journalists. Except instead of celebrating, we file public records requests.
This year, the Idaho Press tested the openness and transparency of 14 government agencies in the Treasure Valley.
Around noon on Friday, Feb. 8, Idaho Press reporters filed public records requests for the text messages of elected officials from more than a dozen local government agencies. Reporters requested text messages exchanged between these elected officials within specific time frames: before, during and after that agency's most recent public meeting.
For example, for the Nampa City Council meeting that began at 6 p.m. Feb. 4, Nampa reporter Erin Bamer requested all text messages the mayor, city council members and Nampa police chief sent or received between 4 p.m. and 12 a.m.
Some of these agencies complied with Idaho Press requests quickly and easily. Some complied but needed longer than the three-day response time in Idaho Code to fulfill the request. Others denied them outright, such as the city of Kuna, which said the Idaho Press could appeal that decision within a 180-day time frame.
The Idaho Press didn't request these text messages to find out if our local elected officials use GIFs and emojis (although they do) or to catch their personal thoughts on public proceedings (although we did). The Idaho Press requested text messages — specifically, text messages before, during and after public meetings — because Idahoans have the right to know what their public officials are saying about public matters in private.
When public or elected officials are discussing public business, at a public meeting — sometimes using phones paid for by taxpayers — then residents have the right to know what those text messages say. Most people rightfully infer that not all decisions or important discussions regarding new laws, city ordinances or public projects happen during the weekly open meetings residents are invited to attend. Often, elected officials have important discussions behind closed doors that affect the decisions they make in open meetings.
The state of Idaho is serious about Idahoans having these rights, too. The Idaho Legislature enacted the Idaho Public Records Law in 1990 in order to ensure a transparent and ethical government. According to Idaho Attorney General Lawrence Wasden, the Idaho Public Records Law — which you can find in Idaho Code 74, chapter 1 — isn't just about protecting Idaho citizens' "right to know." It also protects each citizen's right to monitor the actions of state and local government entities.
The Open Meetings Law in the following chapter also makes it clear "that the formation of public policy is public business and shall not be conducted in secret."
There are very few instances in Idaho Code where public officials are allowed to have private discussions — like when they're dealing with personnel or legal issues or negotiating on behalf of the public agency in matters of trade. But even then, elected officials are not allowed to make decisions in those executive sessions — they're required to make decisions in the public eye and for the benefit of the public record, so Idahoans can know what the people they selected to represent them are doing on the taxpayer dime.
Public agencies have to respond to requests for public records in a timely manner, too. Idaho Code 74-103 says officials have just three working days to either fulfill or deny a request. However, agencies can request an extension to 10 days if officials need more time to locate the records or respond to the request.
For example, the city of Boise fulfilled the Idaho Press request for text messages quickly, after just one business day. Other agencies like Canyon County requested an extension on the third business day, then told the Idaho Press on the 10th business day that no relevant records could be found. The Kuna School District, on the other hand, denied the request for text messages, claiming text messages on private devices are not public records.
A public record is any writing related to the conducting or administration of public business by any state or local government agency, Deputy Attorney General Brian Kane told the Idaho Press, citing Idaho Code 74-101(13).
Idaho's records laws are "content-based," Kane said, meaning when public officials use personal devices to discuss public business, those records can be subject to disclosure. It doesn't matter if the official or the agency owns the phone; what matters is the message's content.
The converse is also true. Some messages sent on a government-owned device aren't subject to disclosure if they don't pertain to public business.
"It's always important for the public to understand you can have mixed public and private (records)," Kane said.
Below is a description of how local agencies stacked up in our Feb. 8 request for officials' text messages, including how quickly each jurisdiction responded, the ease of the request process and what Idaho Press reporters learned from those text messages.
ADA COUNTY
City of Kuna
The Idaho Press requested all text messages received and sent by the Kuna mayor and four City Council members and Kuna police chief between 4-11 p.m., Feb. 5, a meeting day.
The city has a request form on its website, kunacity.id.gov, under the "City Government" tab and the "Transparency" subhead.
The Idaho Press emailed the request around noon Feb. 8 and heard back the morning of Feb. 11, just under one business day later. The city clerk's response said the request had been denied because text messages aren't city records and no such records exist. The response also said the request for the police chief's text messages should go through the county, as the police chief is contracted with the Ada County Sheriff's Office.
The Idaho Press followed up by asking the city to cite the specific section of Idaho code in its denial, which is also a requirement of Idaho Public Records Law. The city clerk attached a response from the city attorney, which said the response was not a denial because the request did not involve a public record as defined by Idaho Code 74-101(13).
That section of code only states: "'Public record' includes, but is not limited to, any writing containing information relating to the conduct or administration of the public's business prepared, owned, used or retained by any state agency, independent public body corporate and politic or local agency regardless of physical form or characteristics."
After emailing the city clerk and Kuna's legal counsel asking if they were saying that the records don't exist because the text messages are on personal devices, not issued by the city, or that no public-related content was in any of the text messages in that time period.
Kuna's attorney, William "Bill" Gigray, said the city is not responsible for keeping track of personal text messages, therefore they are not a public record.
"I'm aware of situations, in the 40 years I've been involved with government entities, there have been rouge officials," Gigray said, "but to round up (their personal communication), we're not responsible for that, based on the law, what are we are saying we are responsible for?"
"You've gotta be practical," Gigray said. "I see (tracking text messages) as one adjunct to record retention, control and access … all government employees would have to sign release consenting to searching, reporting Facebook activity, all communication."
Gigray also said he feels institutions have to have boundaries, "otherwise every written note by a city official is all of a sudden public record."
"If that's the position of the AG's office, every communication by any elected official would be subject to public records law," he said. "I can't imagine anyone would want to serve in that position."
Gigray said if he or the city became aware city officials were conducting city business on their personal devices, that would be another matter. He said if there were a complaint about city business possibly being conducted on personal devices outside of public meetings, the city and the attorney would conduct an investigation.
To appeal, the Idaho Press would have to file a lawsuit with the district court.
Kuna Joint School District
For the Kuna Joint School District, the Idaho Press requested text messages sent and received by school board members between 4-11 p.m. on Jan. 15, a meeting day. The district quickly responded to clarify the scope of the request, then said it would respond in 10 days, as allowed by Idaho law.
The Kuna Joint School District has a link to access a public records request form on its website, www.kunaschools.org, under the "District" tab and the "Board of Trustees" subhead.
The district responded again the morning of Feb. 13, within three business days, saying the text messages were not public record because they were not prepared, owned, used or retained by the school district. The response also cited Idaho Code 74-101(13) and said the district's legal counsel had weighed in.
After emailing the school district asking if they were denying the request because the records were on personal devices or because there was no public-related content in the texts, the district responded it will seek "greater clarification."
The response said the decision could be appealed in 180 days.
City of Boise
Requesting records from the city of Boise is typically a smooth process. There's a form on the city's website that sends a records request to a paralegal, who processes the request and responds. The city responded to the Idaho Press' Feb. 8 request within one business day, sending back two text exchanges that fell under the request.
One exchange involved Councilwoman Holli Woodings 22 minutes into the city council meeting, checking on someone she knows who was sick. The other exchange was a group message among Boise Fire Chief Dennis Doan, Councilwomen Lisa Sanchez, Woodings and Councilman Scot Ludwig about a structure fire at Los Mariachis Mexican restaurant.
Boise Independent School District
The district uses the email publicrecordsrequest@boiseschools.org to field records requests. The district's public information officer responded to the Idaho Press' Feb. 8 request that same day, pointing out an error that needed to be fixed. By the afternoon of Feb. 11, the district sent a response saying there were no text messages during the time period of the request.
Ada County government
Ada County asks that all records requests go through an online portal available on the website. The Ada County Sheriff has a similar operation on its website.
Following the Feb. 8 request for text messages from Ada County commissioners' phones sent between 4 and 11 p.m. on Feb. 4, the Idaho Press received a response back within one business day that the county would need more than three days to complete the request. Within five business days, the county said no records were found.
The Ada County Sheriff's Office asked for an extension on Feb. 13, within three business days of the request. On Feb. 21, the office denied the request, citing Idaho Code 74-104(1). The sheriff's office said the text messages during that time were protected from disclosure due to attorney-client privilege.
City of Meridian
Records requests for the city of Meridian can be filed and tracked through the city's website. The Idaho Press requested text messages from Mayor Tammy de Weerd, all Meridian City Council members and the police chief from 4-11 p.m. Feb. 5, when city council met.
Want more news like this in your email inbox every morning?
Yes!
Meridian City Clerk staff took an extension, completing the request on Feb. 19, seven business days after we sent the request.
Cameron Arial, Meridian community development director, sent Councilman Treg Bernt a text thanking him for his participation in a meeting earlier that day. Bernt replied "Any time any place." Meridian communications manager Kaycee Emery sent Mayor de Weerd some messages about a rehearsal for the Meridian State of the City, scheduled for the following day.
West Ada School District
West Ada records requests can be filed through email with communication officer Eric Exline, exline.eric@westada.org.
The Idaho Press asked for text messages from all West Ada school board members from 4-11 p.m. on Tuesday, Jan. 15, their most recent meeting. Exline sent the text messages within one business day.
Trustee Ed Klopfenstein had taken over as the chairman of the school board during the January meeting. Trustee Rene Ozuna sent him a message congratulating him on his new position and stating he did a nice job during the board meeting.
Philip Neuhoff — the previous board chairman — received a text from Exline stating he was the "best Board Chair I have ever worked with." Neuhoff replied, "Thanks."
Klopfenstein sent Neuhoff a text asking if they could get coffee. Neuhoff said they could.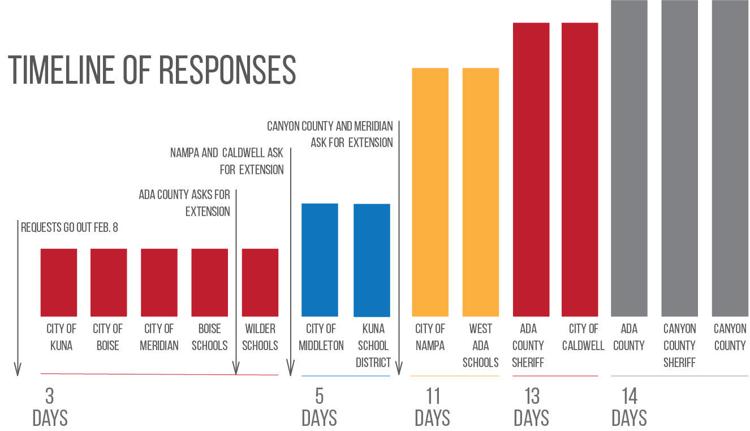 CANYON COUNTY
City of Caldwell
Requesting public records through the city of Caldwell has gotten easier since the city created a new online request portal. There's an option of receiving electronic files, picking up paper copies, or viewing original documents.
After submitting a records request, the Idaho Press received an email confirmation that it was received and it would take more than three business days to complete. The notice said the response would be back before Feb. 25. The response came through on Feb. 21.
Among nearly all of the city council members, Mayor Garret Nancolas and the fire and police chiefs, the response showed no text messages were sent between 4 and 11 p.m. on Feb. 4, besides Councilman Rob Hopper, whose request came up with "personal text messages exempt due to personal privacy at 4:07 p.m. to and from wife."
City of Nampa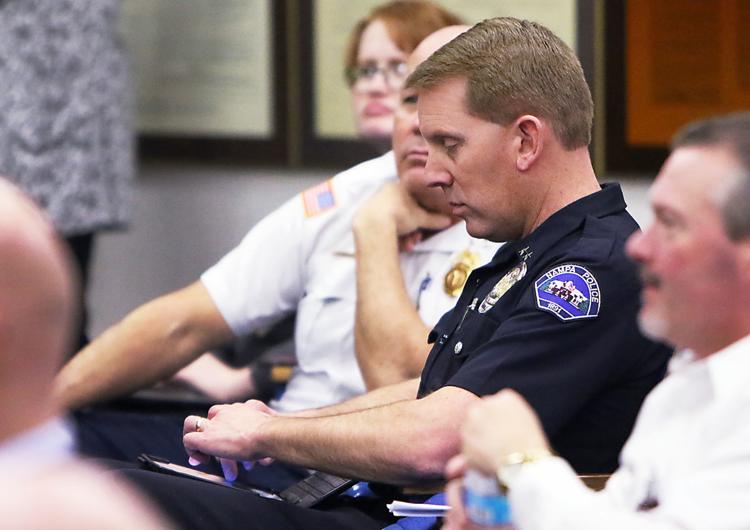 Nampa's records requests can be filed through the city's website. The Idaho Press requested text messages from City Council members, Mayor Debbie Kling and Police Chief Joe Huff the evening of Feb. 4, a meeting day. The request was sent Feb. 8. The city on Feb. 12 said it would need an extension, then emailed a response Feb. 19.
The city's initial response gave just summaries of the text messages exchanged. When the Idaho Press asked for copies of the texts, the city emailed them.
Huff's text messages showed he and other police officers had concerns about a no-smoking ordinance the city council was debating for Library Square. Huff and Capt. Curt Shankel shared concerns that Nampa already doesn't have enough officers to respond to higher priority calls, and likely would not respond to a call about smokers unless it turned into a verbal disturbance.
"It's amazing we can't respond to shoplifters but they want us to go to somebody smoking a cigarette," Shankel said in the texts. That ordinance was later killed at the council's March 4 meeting.
City of Middleton
The city of Middleton advises residents and media to request public records by using a PDF form on its website, under the "Government" tab. The form can't be filled out on the computer, so the Idaho Press printed it off and filled it out by hand, then emailed a picture of the form to citmid@middletoncity.com.
Any email or written request, however, on a specialized form or not, is a public records request and starts the three-day response timeline.
The Idaho Press requested the text messages of Middleton Mayor Darin Taylor and City Council members from 3 to 10 p.m. Feb. 6, a meeting day. City administrator Becky Croft fulfilled the request via email on Feb. 13, including more than 30 pages of relevant text messages. No fee was assessed.
In the text messages, Middleton Police Chief Alan Takeuchi, Taylor, city staff and Middleton police officers discussed the pinnings and promotions of Cpl. Nathan Hilkey and Sgt. Michael Barley, scheduled to take place at the meeting. Afterwards, they shared photos of the officers and the celebratory cake in a group message.
Wilder School District
The Wilder School District takes records requests over email to the school district clerk, slincoln@wilderschools.org.
The Idaho Press requested the text messages of Superintendent Jeff Dillon, Principal John Carlisle, Wilder school board members and district clerk Susan Lincoln from 3 to 10 p.m. Jan. 14, the most recent school board meeting.
The district fulfilled the request via email within one business day. The Idaho Press received copies of text conversations from school board member Robert Fogg and Superintendent Dillon. Dillon corresponded with staff members about materials needed to fix shelves at the school, while Fogg texted Dillon at 9:01 a.m., asking if he could miss the board meeting that night.
"No worries," Dillon texted back at 5:46 p.m. "Sorry it took so long to get back to you. Only big decisions (are) the seniors' request for grad speakers."
Lincoln told the Idaho Press in a follow-up email that those were the only text messages sent by any of the named officials during that time.
Canyon County government
Records requests for every Canyon County department can be filed through an online form available at www.canyonco.org/public-records-request. Links to separate record request forms for the Canyon County Courthouse and the Canyon County Sheriff's Office can also be found on the very top of the same web page.
The Idaho Press requested all text messages sent or received by Canyon County Commissioners Pam White, Tom Dale and Leslie Van Beek between 8 a.m. and 4 p.m. on Jan. 28 — the county's first monthly elected officials meeting of 2019. It was newly elected commissioner Van Beek's first elected officials meeting, as well as a rare elected officials meeting when every elected official was in attendance. During the meeting, officials spoke for almost an hour about pending Idaho legislation that would affect the county and recent challenges to the county's decision to hire consultant Ysabel Bilbao to run an educational campaign about the jail bond.
Canyon County requested an extension on Feb. 13. On Feb. 22, 10 business days after the request, Canyon County told the Idaho Press it was "unable to locate a record that fits the parameters of your request."
"There were personal text messages sent during that time frame, but those text messages do not meet the definition of a 'public record' under 74-101(13)," county spokesman Joe Decker said in a follow-up email on Feb. 22.
The Idaho Press also requested text messages in the same time period from Canyon County Sheriff Kieran Donahue. The Sheriff's Office requested an extension on Feb. 13 and fulfilled the request on Feb. 22, too. No fee was assessed.
Other than asking Commissioner White if she was attending the elected officials meeting (White did not respond), Donahue did not discuss the topics related to the elected officials meeting over text that day. Among other scattered messages, Donahue did correspond with Jaclyn Roberts from Hayden Homes regarding the company's planned donation to the Sheriff's Office.
At 11:55 a.m. Monday, Roberts asked Donahue if she should make out a check to the Canyon County Deputy Sheriff's Association.
"I think so," Donahue responded sometime that afternoon. "It basically can go toward the Deputy Sheriff's Association for assisting officers in times of need or it could feasibly go toward the CCSO Employee Appreciation Group which also assist employees. Let me do some checking so we stay within lawful boundaries. If it is designated to our deputies it can in no way be used or directed to the (K. Donahue) Foundation on domestic violence, which is fine, we just need to make sure it is done correctly."
Roberts said that was fine with her.
"OK – well let's have it designated toward that and do a separate check for the domestic violence foundation later this year," Roberts texted back.
On Jan. 31, Canyon County announced Hayden Homes' $1,500 donation to the Canyon County Sheriff's Office Employee Appreciation Association.
Your turn
Idaho residents can also use these same methods to request public records — including text messages pertaining to public matters — from local agencies in their area.
The Idaho Press used several different methods based on what reporters discovered was the easiest way to get quick responses from the agencies. However, residents don't have to use special online portal or form to request records. Under Idaho Code, citizens can submit a written request for information, even via email.
Public officials have the responsibility to respond to those requests within three business days — or 10 business days, if they request an extension — regardless of how a request was submitted. Idaho Code 74-102(4) states a public records request simply needs a requester's name, mailing address, email address and telephone number.
Kane, the deputy attorney general, said in his opinion, what's laid out in the law is all that is required to fulfill a public records request. Ultimately, Kane said, government agencies should expect public information requests and set up the internal infrastructure to ensure those requests are efficiently handled.
"Understand that the public records law is there," Kane said. "So if you're in government, you should expect public records requests."
Idaho Press staff reporters contributed to this story.
From the Idaho Press